Hydrafacial Platinum is a non-invasive treatment that delivers immediate results for all skin types with no downtime. Hydrafacial removes dead skin cells and can extract impurities while simultaneously delivering the skin with cleansing, hydrating and moisturizing serums. The treatment is calming, refreshing, and non-irritating. You will notice its benefits immediately.
Hydrafacial Platinum includes 7 steps:
Vortex-Exfoliation

:

An active solution removes dead skin cells,

Vortex-Peel:

a mixture of glycolic and salicylic acids delivers the benefits of a peel without post-peel scaling,

Vortex-Extraction: 

Patented, automated vortex suction painlessly cleans out pores,

Vortex-Boost

: 

to address skin tone & texture, dark spots, fine lines & wrinkles, or congested pores,

Vortex-Fusion

: LED Light Therapy: 

to further reduce the visible signs of aging, or help fight acne and bacteria,

Lymphatic Drainage:

 

the lymphatic system delivers nutrients to the cells, carries away excess water and cellular waste, bacteria, viruses and toxins. By stimulating the lymphatic system, the toxins and swollen tissue are drained and the process supports the body's immune system. 
Hydrafacial Platinum is a premium treatment to address fine lines & wrinkles, loss of elasticity, vibrancy, texture, oily or congested skin and enlarged pores. 
Great For:
Fine lines and wrinkles
Hyperpigmentation
Uneven skin tone and texture
"It was my first time at Skin Spa and I've already booked my next two sessions - loved the team!"
—Viv
Before and Afters
Before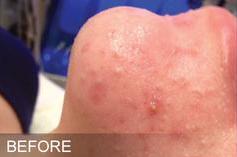 After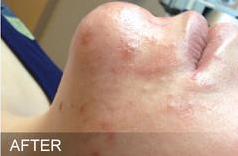 Skin redness is drastically reduced after just one HydraFacial treatment.
Before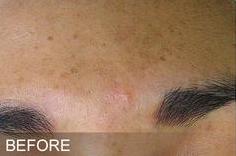 After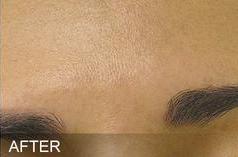 Uneven skin tone and texture is improved.
What can you expect after a HydraFacial at Skin spa new york?
Fewer fine lines and wrinkles
The deep hydration you receive during a HydraFacial will help lessen the apperance of fine lines and wrinkles on all parts of your face, including laugh lines and crow's feet.
Improved skin texture
This gentle treatment will extract impurities and deliver deep hydration to help improve skin tone and texture.
Reduced appearance of hyperpigmentation
The gentle peel-like effect of HydraFacial reduces the apearance of brown spots, hyperpigmentation, and acne scars.
FAQs
What is the Vortex-Fusion Delivery System?
This is the patented design of the HydraFacial tool that simultaneously extracts impurities and delivers deep hydration. The spiral design of the tips and vacuum technology work together to create a vortex-like experience that just feels like a gentle massage.
What are the benefits of HydraFacial?
Whatever your skincare goals or needs, HydraFacial can help! Whether you're looking to reduce the appearance of fine lines, wrinkles, or brown spots, or simply looking to improve your skin's texture, firmness, and vibrancy, HydraFacial does it all.
Who is HydraFacial good for?
Most people are perfect candidates for HydraFacials, but if you have any concerns, ask one of our estheticians. Because it's a gentle treatment that has no downtime, you can get a HydraFacial hours before a big event and have glowing skin!
Are there any side effects to HydraFacials?
One reason many patients choose HydraFacials over peels or extractions is because the treatment only takes 30 minutes, and there's no downtime or side effects. The treatment is gentle, and you'll instantly get skin that's more hydrated—with no redness, irritation, or pain.
Can I get HydraFacial before a big event?
HydraFacials deliver instant results with no downtime. After the 30-minute treatment, you'll see glowing skin that you'll be proud to show off. Because there's no redness or irritation, you can get HydraFacial the same day as your big event and be good to go.